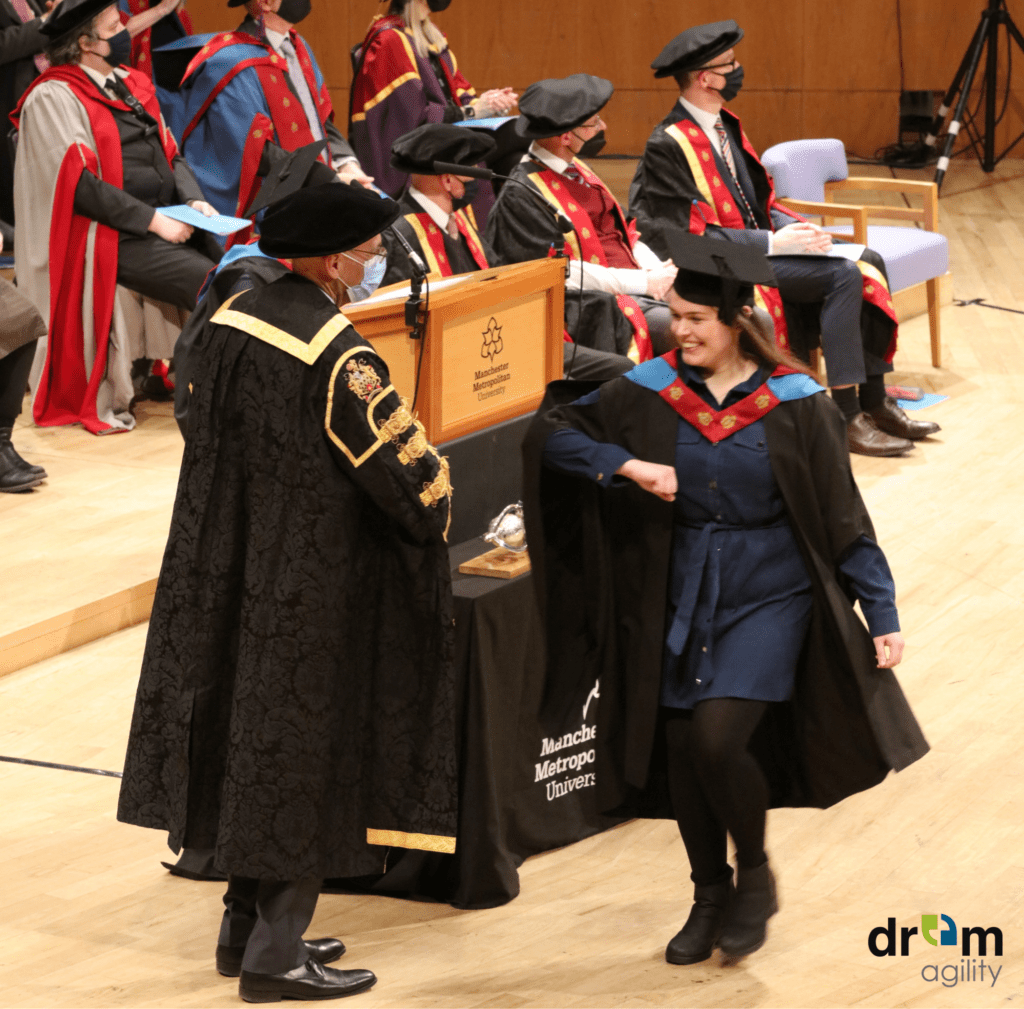 We had Lucy https://www.linkedin.com/in/lucy-clark-cmgr-mcmi-614450a6/#education as a candidate on the inaugural degree level apprenticeship with MMU (Manchester Met). She finally got to go to her graduation ceremony in January this year and whilst there was no scroll givien out nor handshakes, it was a moment for celebration. She has graduated with a first in business management and the extra year gave her Chartered Manager Status from the Chartered Management Institute. She was delighted as she's graduated; debt free, with savings, and able to purchase her first home at 25 – it would have been aged 24 but thanks to covid everything took longer. There were challenges with the course, being a new course there were a few teething issues, but these were gradually resolved. The cohorts got much larger as businesses were trying to spend their levy rather than pay it back. And the course got shorter to ensure that more people finished it , bearing in mind the average length of time with an employer.
Since Brexit and now WFH, the North is really suffering from a Software Developer drain to the South. Although the temperature amongst most of my tech founder cohort seems to be the desire to get everyone back to the office. The initial "we're consulting with our staff to see how they feel about coming back" has been replaced with " those not coming back will be at the back of the queue"or "I've hired someone in the backend of nowhere and now we're all back in, what do I do with them, it's spoiling the teams cohesion?".
Eventually we'll get to the new status quo, but in the meanwhile we're adding degree apprenticeships on the software engineering side to our recruitment mix: it ties them in for several years, they have to have at least a BCC A level to get on, and they'll have no student debts to worry about, they get to work in an office with a team to support them, they don't have to have a vaccination (if they don't want to) just to learn, they get a decent salary, and we get a say in what's on the course. I'm all for degree apprenticeships and the more kids and parents we can tell the better. Who wants to pay £9k a year and untold damage to their mental health to study from their room!